The landscape for gaming marketplaces has changed quite a bit since we first announced Robot Cache back in 2018. It's clear that the industry is growing tired of "standard practices" such as unfair revenue splits, limited ownership, and more. We couldn't be happier to watch this shift take place, as it's a step closer to a fairer, more transparent and inclusive industry.
Robot Cache is all about modernizing game distribution.
From the most developer-friendly revenue split on the market to groundbreaking mining and resell features, Robot Cache is creating a marketplace that rewards everyone for playing (and creating) games they love.
Here's why we think it matters and we hope you do too.
Developer Revenue
It has long been the standard for all digital content (not limited to video games) that the marketplace takes 30% of the revenue, leaving the other 70% to the creators. In this last year, the gaming industry has seen major push back, and as a result, things have begun to shift in the right direction.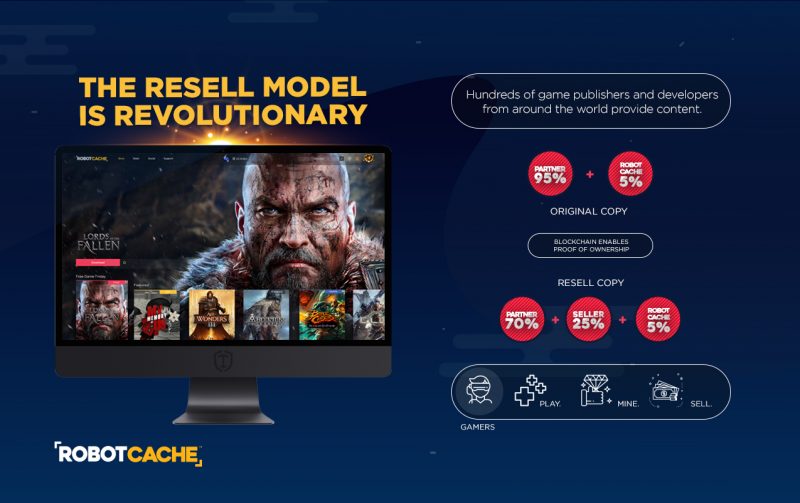 Current Standard
The majority of the industry is still at 70/30 split. However, recently there have been attempts at undercutting this, the most popular equation working out to 88/12 revenue split. Meaning 88% of the revenue is pocketed by the devs.
How Robot Cache Does It
RC goes further. We believe that the developers deserve the most possible revenue that can be afforded (it's their game after all, not ours.) This is why Robot Cache takes only 5% of each transaction. It's just enough to run our business, without cashing in on someone else's hard work. No other marketplace can claim such favorable numbers.
Rewards, Promotions, and Freebies
Video games aren't cheap. As gamers ourselves, we are always looking for the next sale, promotion, or discount method, but often come up short. Sure, there's a great discount on a game from last year, but how about finding a way to cut costs on the new stuff?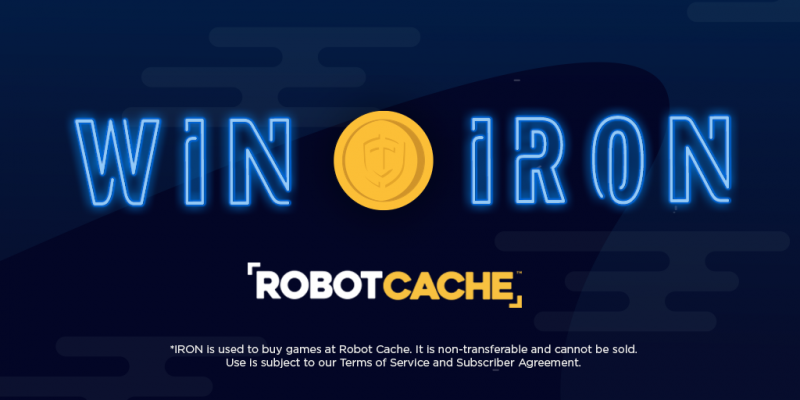 Current Standard
There are lots of ways to find promotions in the various gaming marketplaces available. Often times promotions are based on upcoming holidays, weekends, or publisher highlights. Free games can occasionally be sought out as well, though they are always highly specified and rarely preferred. Gamers deserve a few more options and a lot more control.
How Robot Cache Does It
First, when you buy a game on Robot Cache, you have the option to resell it when you're done. Gone are the days of playing a game, and then letting it sit for an eternity collecting digital dust. On the RC marketplace, it's as easy as clicking "list" and waiting for a buyer. You get 25% of the current list price back in your account, which you can apply to a purchase of any new game, making each purchase effectively 25% less than any other platform.
In addition, there are numerous ways to earn free games and more on the RC platform. For starters, promotions like "Free Game Fridays" will grant users with an ongoing, curated selection of free stuff to play. But that's just the beginning!
Another option for earning free games of your choice is to mine to earn digital currency in exchange (called IRON.) Flip the switch on the mining feature, head to bed, and wake up with more currency. It's really that easy!
About Robot Cache
Robot Cache is the world's first videogame marketplace with a revolutionary digital resale model. We're committed to disrupting game distribution, making it more fair, transparent and secure. 
Our groundbreaking economic model is a victory for both PC gamers and game developers alike. We share in only 5% of the transactions, so game makers keep more profits to reinvest in making more great games. For gamers, buy games, play games, and for the first time ever…resell your digital purchases! Our innovative mining feature also allows you to mine and be rewarded in IRON, which can be used to earn more games!
If you're interested in Robot Cache, head over to our signup page to become a Robot Cache Founder and receive:
Access before the general public
Founder's Mining Boost

Name Reservation

 

A 

Founder'

s Badge

 

FREE IRON, When You Refer A Friend

 
PLAY. MINE. SELL.
Learn more at www.robotcache.com